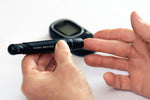 The Relationship Between CBD and Diabetes Prevention
In a world inundated with sugar and processed foods, Americans battle diseases caused by poor diet more than ever before. Diabetes is a disease that causes the body to process sugar improperly, which results in high blood sugar. High blood sugar can cause serious health effects, such as heart disease, stroke, and nerve damage [1]. It is estimated that 10% of Americans have Diabetes in one form or another.
Though clinical research on the effects of CBD in humans with Diabetes is limited, current data showed that in non-obese diabetic mice, treatment with CBD reduced the incidence of Diabetes by 56% and significantly reduced inflammation [2].
In a study conducted in which 11 - 14 week old, female, non-obese diabetic mice were administered CBD, only 32% of them were diagnosed with Diabetes after the treatment. Compared to 86% and 100% in the test and control groups respectively. Thus, it is suggested that CBD can potentially be used to help as a therapeutic agent for the treatment of Diabetes [3].
Through research, it is becoming evident that CBD could have the potential to be a viable treatment for the prevention and treatment of Diabetes. Though it is too early to say definitively, there is certainly evidence to suggest science is moving in the direction of using CBD to help decrease deaths caused by Diabetes. Science will have to continue to research to develop any concrete treatments.
References
[1] https://www.projectcbd.org/cbd-for/diabetes
[2] Weiss, L., Zeira, M., Reich, S., Har-Noy, M., Mechoulam, R., Slavin, S., & Gallily, R. (2006). Cannabidiol lowers incidence of Diabetes in non-obese diabetic mice. Autoimmunity, 39(2), 143-151. Retrieved from https://www.ncbi.nlm.nih.gov/pubmed/16698671 
[3] Weiss, L., Zeira, M., Reich, S., Mechoulam, R., Slavin, S., & Gallily, R. (2008). Cannabidiol lowers incidence of Diabetes in non-obese diabetic mice. Neuropharmacology, 54(1), 244-249. Retrieved from https://www.ncbi.nlm.nih.gov/pubmed/17714746