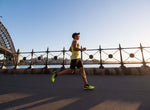 CBD for Inflammation in Athletes
Both seasoned and recreational athletes are no stranger to the occurrence of inflammation-related pain. Whether you are a leisurely runner or a professional competitor, discomfort from exercise-related inflammation is nearly inevitable, and commonly treated by physicians by non-steroidal anti-inflammatory drugs (NSAIDs) such as Aspirin or Ibuprofen. Despite the prevalence of over-the-counter pain medications, research suggests that long-term NSAID use is related to adverse effects on the body's healing processes [6].
In an attempt to offer athletes a way to stay active and avoid the unwanted risks and side effects of NSAIDs, researchers are investigating the anti-inflammatory properties of Cannabidiol, or CBD. Clinical trials have observed that cannabinoids - the active components of CBD - have the ability to help suppress the inflammatory response, subsequently relieving symptoms of pain resulting from inflammation [3].
Research results indicating the anti-inflammatory properties of CBD have not gone unnoticed; in 2017, the Health and Medicine Division of the US National Academies concluded that there is substantial clinical evidence to support the effectiveness of CBD to help the treatment of chronic pain [4]. Similarly, in 2018, the FDA released a statement approving the use of a "purified form of [...] cannabidiol (CBD)" [5].
Though clinical research on the effects of CBD in humans is limited, current data suggests that Cannabidiol products show promise in the effective management of various inflammation-based pain conditions [1].
With an estimated 50% of athletes currently using NSAIDs regularly to treat exercise-related pain, researchers and healthcare professionals are concerned about the high potential for drug misuse and the risks associated with long-term use [2]. As a result, many athletes are choosing CBD products over NSAIDs for inflammation support.
While further research is necessary to explore the risks and benefits of CBD further, early studies suggest that CBD could be a safe, effective alternative to NSAID anti-inflammatories. Speak to your healthcare provider before using CBD to treat inflammation or any other condition.
References
[1] Bruni, N., Della Pepa, C., Oliaro-Bosso, S., Pessione, E., Gastaldi, D., & Dosio, F. (2018). Cannabinoid delivery systems for pain and inflammation treatment. Molecules, 23(10), 2478. doi: 10.3390/molecules23102478
[2] Harle, C. A., Danielson, E. C., Derman, W., Stuart, M., Dvorak, J., Smith, L., & Hainline, B. (2018). Analgesic management of pain in elite athletes, a systemic review. Clinical Journal of Sports Medicine, 28(5), 417-426. doi: 10.1097/JSM.0000000000000604
[3] Nagarkatti, P., Pandey, R., Rieder, S. A., Hegde, V. L., & Nagarkatti, M. (2009). Cannabinoids as novel anti-inflammatory drugs. Future Medicinal Chemistry, 1(7), 1333–1349. doi:10.4155/fmc.09.93
[4] National Academies of Sciences, Engineering, and Medicine. (2017). The health effects of Cannabis and Cannabinoids: The current state of evidence and recommendations for research. National Academies Press; Washington, DC. [Google Scholar]
[5] U.S. Food and Drug Administration. (2018). Statement by FDA Commissioner Scott Gottlieb, M.D., on the importance of conducting proper research to prove safe and effective medical uses for the active chemicals in marijuana and its components. Retrieved from https://www.fda.gov/newsevents/newsroom/pressannouncements/ucm611047.htm
[6] Ziltener, J.-L., Leal, S., Fournier, P.-E. (2010). Non-steroidal anti-inflammatory drugs for athletes: An update. Annals of Physical and Rehabilitation Medicine, 53(4), 278-288. doi.org/10.1016/j.rehab.2010.03.001